Once printing is completed, there needs to be machines and techniques to cut, fold, sew, glue, drill and staple the piece into the finished product. One important technology is the guillotine. Since the beginning of mechanized printing, there had to be machines that could cut thick reams of paper and board into smaller sizes.

The guillotine is still regarded as one of the industry's most dangerous machines. As the name implies, whether by hand wheel or power, a knife as sharp as a razor, can slice through paper as well as fingers, in an instant. Early machines in our collection are locked out and do not have blades because they are too dangerous. HIW has many examples of English, German, Canadian and American guillotines dating from the late 1800's.

Besides the guillotine, an early Liberty paper folder and Berry paper drill are on display. These machines didn't receive the same technology developments of the printing press. Although bindery work is still crucial, the earliest days of bindery tested both men and women to their limits.



| | |
| --- | --- |
| | |

Before Gutenberg invented movable type, there was already a Bookbinding industry. What we refer to today as the Case-Bound book started centuries before the printing press albeit all the copy was scribed by hand. The need for technology to cut, fold, sew and glue pieces of paper together rapidly became an industry on to itself.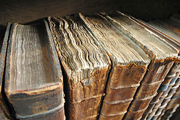 Read more »